Elise Manahan/Gazette
The cab of the semi-trailer truck hit by a train on Wednesday is seen with pieces of the engine strewn in the ditch. Troopers have confirmed that one person died in an early evening crash between a tractor-trailer and a train on Higby Road on Wednesday.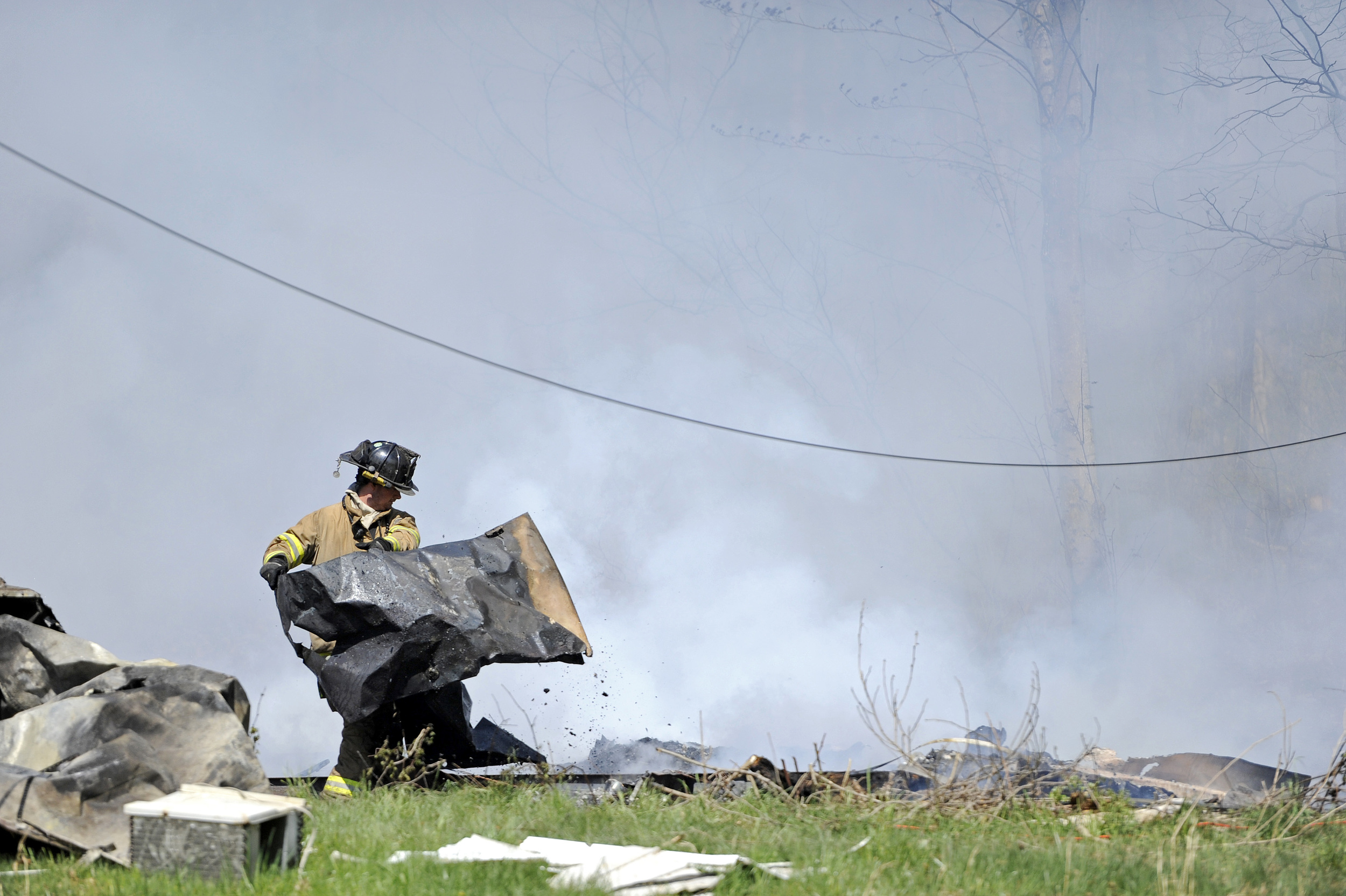 Elise Manahan/Gazette
A fire of unknown origins destroyed a trailer on Keiser Road in Waverly on Thursday. The trailer was unoccupied and was being salvaged for parts before a new home is built on the property. The fire was safely extinguished with no injuries reported by the Pebbles Township Volunteer Fire Department and the Huntington Township Volunteer Fire Department.
Elise Manahan/Gazette
Residents stand in knee deep water outside of their apartments at the Woodland Heights Apartment Complex off Plyleys Lane on Tuesday after a severe storm left much of the county with more flooding. According to one resident the complex flooded in a matter of half an hour. The waters receded later in the evening.
Elise Manahan/Valley Breeze
A woman reacts after a firefighter rescued her cat that was trapped inside a burning apartment complex in Woonsocket, RI.
Elise Manahan/Gazette
Family members of David Rutter react to news about the standoff he was involved in with police on Thursday at the intersection of Chester Hill Road and Blain Highway.
Elise Manahan/Gazette
A woman involved in a collision with a semi-trailer on North Bridge Street on Friday afternoon fills out paperwork from inside her car. No one was reported injured at the scene.
Elise Manahan/Valley Breeze
A member of the Smithfield Fire Department is silhouetted against a burning house that was purposefully set on fire for new recruits and other members of the department to get real experience putting out a large house fire.
Elise Manahan/Gazette
Medical staff wheel David Rutter onto a helicopter to be flown from the scene of a standoff to a hospital on Thursday. The standoff began when law enforcement officers came to his home after authorities spotted marijuana growing on the property from aerial surveillance.
Elise Manahan/Gazette
A firefighter works to put out a structure fire that destroyed an abandoned home at 47 Vincent Street on Saturday.
Elise Manahan/Valley Breeze
Jennifer Poulin, right, of Pawtucket is comforted by friends as she bids a final farewell to her brother, Massachusetts National Guardsman Spc. Dennis Poulin of Pawtucket. Specialist Poulin died after sustaining serious injuries when his armored vehicle rolled over while serving in Afghanistan.
Elise Manahan/Valley Breeze
A woman reacts after firefighters rescued her dog that had been trapped inside a burning building in northern Rhode Island.
Elise Manahan/Valley Breeze
A firefighter leans out of a smoking window in an apartment that was gutted by a house fire in Woonsocket. No fatalities were reported.
Elise Manahan/Valley Breeze
A firefighter navigates his way through a maze of fire hoses in Woonsocket after the fire department responded to an apartment fire that destroyed the entire home.